Kickstart Your Fitness Journey With Muay Thai!
Why Are The Martial Arts Right For You?
With our Mixed Martial Arts Classes at Tran's Martial Arts & Fitness, you'll learn a practical, no-nonsense approach to self-defense that will teach you to move your body with balance and power. Through Muay Thai and other traditional martial arts, we'll help you develop focus, clarity and self-confidence.
Not only will you see wonderful physical results as your body grows leaner and stronger, but you'll also develop unshakable self-confidence, ironclad discipline, and connect with our incredible community that we've strived to cultivate here in Longmont!
Take On High-Energy Muay Thai Right Here in Longmont!
If you're tired of a boring and repetitive gym routine, or if you're looking for an exciting fitness environment or to learn practical self-defense skills, our Teen & Adult Martial Arts program will get you started on the fundamentals of Muay Thai, an exciting and globally-recognized martial art!
This program is designed to help you lose weight, build lean muscle, and truly become part of our tribe! Our Muay Thai program offers an incredible workout that will burn up to 800 calories in a single session. Designed for people of all ages and fitness levels, our Teen & Adult MMA classes in Longmont provide a total body workout that combines a unique blend of powerful punches, kicks, and calisthenics.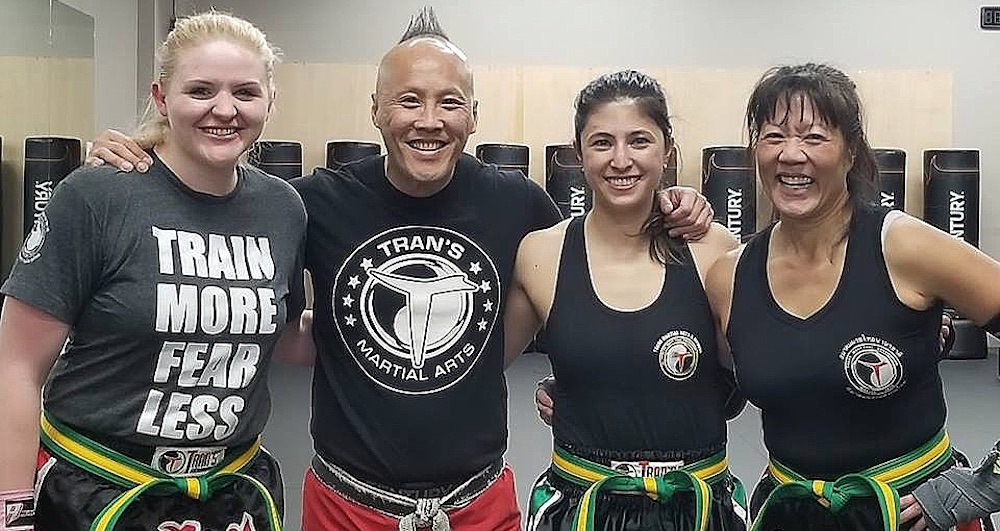 Try out our Mixed Martial Arts classes and experience:
Healthy, sustainable weight loss
Lean muscle toning throughout your body
A fun and dynamic workout
The support of an awesome community!
Develop Your Fighting Spirit at Tran's Martial Arts & Fitness Center!
Cultivate a loving heart and fierce fighting spirit! Our Teen & Adult Martial Arts classes will help you accomplish your fitness goals and develop stronger values, learning to love your tribe and yourself as you grow stronger.
Join us in Longmont for the highest-quality Muay Thai and Mixed Martial Arts training that Colorado has to offer! We're proud to have served Boulder County for over 25 years. You could be our next student!