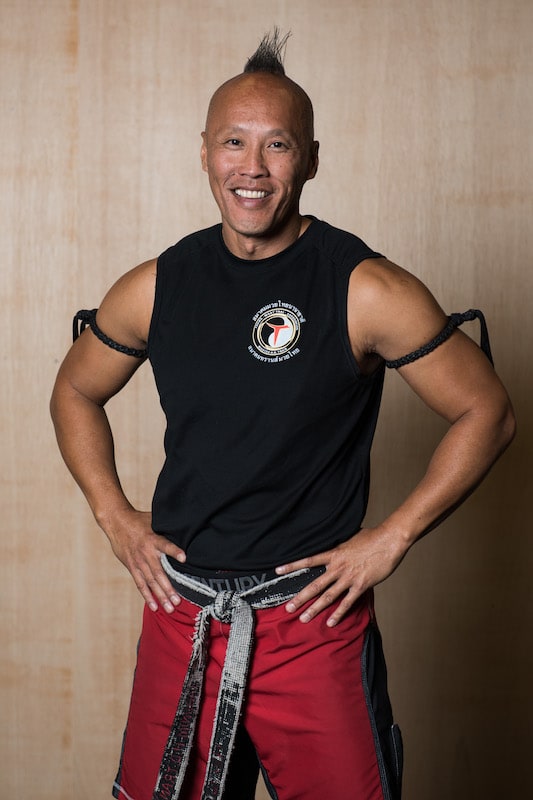 Master Hung D Tran
Master Hung D. Tran is a lifelong practitioner and teacher of the martial arts. Born in Saigon, Viet Nam during the war, Master Tran and his 2 brothers and 2 sisters became refugees from their war-torn country at the end of the Viet Nam war. His father, who was in the Navy at the time, was able to transport his family and others out to sea on a Navy vessel on the very last day of the war, April, 30 1975 when Saigon was captured by the North Vietnamese. They were picked up by an American Navy ship and put aboard an oil tanker which transported them through Guam to Camp Pendleton in Southern California. The Tran family was then sponsored by a Lutheran Church in Fort Collins Colorado and it was there the family was able to put down roots.
Master Tran began training in martial arts with his siblings under the supervision of their father at home at the age of 7. The elder Tran was an experienced martial artist, having trained extensively with the Korean Tiger Team Special Forces during his military career. Master Tran's formal training in Tae Kwon Do began at age 13 when he and his siblings cleaned the local school in exchange for lessons. He received his 1st Dan Black Belt in Tae Kwon Do at the age of 19. It was these early experiences that taught Master Tran the importance of giving back to the community and helping others the way he and his family were giving assistance when they needed it.
In 1988 Master Tran's elder brother, who was a champion competitive fighter, started his own Tae Kwon Do school in Fort Collins. After Master Tran Graduated from Colorado State University he joined his brother as a full time instructor. In 1994 Master Tran opened his own school in Longmont, Colorado. Since then he has taught thousands of students of all ages and backgrounds. The Tran's schools are one of the most successful martial arts organizations in the country. Master Tran has never forgotten his roots and the schools provide a multitude of community minded projects and charity events every year including: Toys for Tots, Women's Shelter, local food drives, American Red Cross, Humane Society, Multiple Sclerosis Walk, Center Ice Stampede for the School District to mention a few. This year the school will host Police vs. Fireman Kickboxing Tournament to benefit an orphanage in Viet Nam that the family visited during a recent trip back to their home country.
When Master Tran opened his school he was also training and competing in American Style PKA Kickboxing. His love of martial arts and desire to compete led him to research the best methods for developing the highest levels of fitness for kickboxing. At the same time, he was interested in the most effective martial arts self defense. This led him to discover the art of Muay Thai and he quickly fell in love with all aspects of the Thai Martial art. In 2002 Master Tran's passion for Muay Thai brought him t the world renowned Grandmaster Toddy in Las Vegas where he eventually became certified as Kru or Master Instructor. IN 2007 Master Tran won the CBA Muay Thai Title Belt in the Colorado State Boxing Association.
Combining his passion and knowledge of Muay Thai with his experience as a successful martial arts school owner, Master Tran was inspired to integrate the art of Muay Thai into his school curriculum. He recognized that Muay Thai is a tremendous way to develop fighting level fitness and it is something everyone could do. Furthermore, it is an effective and realistic method of self defense for anyone, regardless of size, ability or age. Unlike other traditional arts like Tae Kwon Do or Karate which can take many years to master and even then be ineffective for self defense, Muay Thai gets students into the action right away and gets them in shape quickly. Ultimately, Master Tran created his innovative and groundbreaking Black Belt Muay Thai Curriculum which is designed for school owners of any style to be able to blend Muay Thai into their existing program. The beauty of this curriculum is that it includes the traditional aspects of martial arts like respect, courtesy, life skills and goal setting through belt levels. With this system anyone can learn authentic Muay Thai in a safe and fun way without necessarily being a competitive fighter. The curriculum packages the art to be appealing to the modern American martial arts consumer and school owner without losing the authentic essence. With the advent of MMA, Muay Thai had emerged as the striking art of choice because of its proven effectiveness and the new generations of martial artists have begun seeking it out in unprecedented numbers. In response, Master Tran has created the Tran's Muay Thai Association to support school owners interested in integrating modern Muay Thai into their schools and leading the evolution of this wonderful art to a worldwide audience.